Maui holds a special place in our hearts. Our first visit there left such great memories that we had to go there again. The COVID pandemic did make things somewhat difficult but once we got the negative test results the rest was just proper planning. As it did in the past Maui did not disappoint. We hiked numerous trails, experienced breathtaking views, awesome food, and overall had a great time. The island has such a great combination of beautiful volcanic nature, golden beaches, friendly people, and tasty food. Just an awesome destination for a family vacation.
Native Hawaiian tradition gives the origin of the island's name in the legend of Hawaiʻiloa, the navigator credited with the discovery of the Hawaiian Islands. According to it, Hawaiʻiloa named the island after his son, who in turn was named for the demigod Māui. The Island of Maui is also called the "Valley Isle" for the large isthmus separating its northwestern and southeastern volcanic masses.
How to Get There
If this was pre-pandemic time this section of this article would not exist. Sadly the reality is such that traveling to places like Hawaii is not as simple as it used to be. Due to the COVID pandemic, Hawaii requires testing and has a certain process that needs to be followed. All is explained and tracked via the travel.hawaii.gov website.
In a nutshell, you are required to take a COVID test from preferred locations 72 hours before your flight. Then upload your test results via the website and get a barcode. That barcode is then used to track you when you arrive on the island. You can not rent a car or hotel room without that barcode.

Overall the process is pretty seamless once you get the test done (which we did in Walgreens in less than 10 minutes). In our case results were sent via email by LabCorp. The only tricky thing is to make sure you are not outside of the 72-hour window for the results. Note that the process might have changed so make sure you check the website above for the most up to date information.

As far as flights to Maui there are plenty of regular nonstop flights from the mainland. Have in mind that since those are domestic flights the airlines nickel and dime you. There are no screens on the seats and you have to use your own devices to watch the onboard entertainment.
Transportation
To get around the island and go through the Road to Hana you would need a good vehicle. We rented the first time a van and this time a 4×4 Jeep. Pay the extra and get the Jeep. The difference is night and day. Especially if you want to go offroad and continue on the road beyond Hana. We ended up driving more than one thousand miles for the 11 days we stayed on the island.

Roads outside of the main cities are small and without much safety equipment on the sides. Road to Hana and especially the road to Haleakala could be pretty scary for inexperienced drivers and travelers. Pay attention and drive carefully. Also always let locals pass by. They know the roads and do not have much patience for tourists.
Lodging
We stayed in the city of Lahaina. The city is located three hours drive from Haleakala. Close to four (one way) to get to Hana. We have sentimental reasons to stay in this city. Our first visit left awesome memories and we wanted to revisit them. The close proximity to great places for breakfast, lunch, and dinner was also a factor in our decision. The airport is about an hour away as well as Whole Foods in case you need organic groceries etc.
The hotel we chose was the Hyatt Regency Maui. Overall our stay was there was ok. Our timing was bad since they were doing a bunch of renovations and some of the amenities were not available. The hotel did have an awesome pool area for both kids and adults (which does get quite crowded). The Japengo restaurant has one of the absolute best calamari we have ever tried. Sushi was also pretty good. The dining restaurant Son'z Steakhouse was decent. Overall a good hotel but somewhat expensive for what you get.
Since our hotel did not have their lūʻau open we had to book one in another location. You can read below what a luau is and why it is an awesome spectacle and must-see in Hawaii. Since those are usually booked months in advance we ended up going to the only one available at the time in the Wailea Beach Resort Marriott Maui. That hotel left a great impression. Good amenities and location. Right next to a shopping mall. Great high-end restaurants. Infinity pool and it felt overall less crowded and more open. The sunset was amazing as well there.
Cuisine
We absolutely loved the food in Hawaii. During our previous visit, we used to go daily to this Maui Fish Market place. It left such a great memory that the moment we had a chance we went back to it. Still, the best Ahi tuna steak sandwich we ever had. Their lobster bisque was also very good. The Paia Fish Market was awesome as well. They have multiple locations (one in Lahaina). Another awesome place was Joeys Kitchen. Both breakfast and lunch we had there were amazing. The rest of the time while we were not eating in one of those places we used Yelp. It was dead-on in terms of rating.
Overall the fish dishes in all the above places were great. Focus on those would be our recommendation. We did not have a bad meal in our entire stay in Hawaii jumping from a fish market to a fish market and trying the other high-rated Yelp recommendations.
Things To See
There are quite a few things to see and do in Maui. Plenty of great hikes and vista points, awesome beaches, and places for surfing & snorkeling. We wanted to start with the trails and do some hiking. After that, we rested for a few days with trips to the beaches followed by sightseeing and snorkeling.
Maui Sunsets
Maui is quite popular for its sunsets. We made sure that almost every day we would be enjoying those. You should research the popular and recommended spots to watch the sunset. We did that but ended up always seeing them from the hotel. It was just the most convenient place after a tough day hiking or on the beach.
Lūʻau
It would be a crime to visit Hawaii and not to experience a luau at least once. In a nutshell, it is a dinner with great entertainment. It usually includes traditional Hawaiian music, dancing, and overall just great time. We especially love the fire dance routine. Different restaurants do different shows in terms of length and performances but the theme is usually the same. In our case, the performance took us through the islands' history and their traditions and dances. The price is usually somewhat high since it includes all you can eat, an open bar, and the entertainment.
As mentioned above our luau was at the Wailea Beach Resort Marriott Maui. The name is Te Au Moana (The Ocean Tide). It is right next to the beach. Great location. It turned out that it was one of the higher-rated luaus on the island. You enjoy the sunset, eat great food, watch an awesome show, and just relax. You have to experience it at least once. Another famous one is the Old Lahaina Luau. That one was booked months ahead when we tried to get a reservation. Overall you should do your research and book a luau before you arrive on the island. They are that popular.
Waihee Ridge Trail
Amazing trail. Perfect length and great views. We hiked it with our six-year-old son during the rainy season. The trail is reasonably shaded and somewhat challenging. It is practically uphill all the way to the top and in some areas muddy. You should be careful not to fall/slip on the way down. We highly recommend hiking shoes for this trail. Also, make sure you also park on the trail parking and not on the extended one because you would add another mile to your hike. You have to be in good physical shape to take on the trail. It is a little over 2 miles one way if you park in the parking lot next to the trail. The extended one is the first parking you will see when getting on the road leading to the trail. Avoid that one and keep driving.
Ohai Loop Trail
If you are looking for a short trail with breathtaking coastal views this one is for you. Only 1.2 miles long. Perfect for families with children. We absolutely loved it. The video of the trip has plenty of footage from this trail. The parking lot is not a big one so have that in mind. It also is pretty open so avoid going there during the hot hours of the day or use sunscreen. You can complete the loop in less than an hour. If you stop like us for pictures and video every 5 minutes it would easily take a few hours.
Nakalele Blowhole
Very popular destination and quite crowded. There is a very short trail to get to the blowhole. The actual attraction is a great photo destination if you can be there early before the crowds. Be careful and do not go close to the blowhole. It is dangerous. Warning signs are everywhere. Waiting there for the waves crashing was what we did for a while. And also waiting to see how high the water would shoot through the blowhole.
On the right side before you go down to the actual blowhole you have a very nice coastal view as well. It is a great place to sit and enjoy the crashing waves and get some rest. It is a windy destination so have that in mind if you are going later in the day.
Haleakala
This is one of our favorite Maui destinations. Hard to get to, requires a reservation and you have to get up super-mega early to truly experience it, but it is worth it! Not every day you can see the sun rising from below the clouds while you are above them enjoying the view. It is a special place.
Reservation @ Haleakala
Few things to note here. If you are going for the sunrise you need to get a reservation from this website. You basically reserve a parking spot for one vehicle. It is only valid for the time period between 3 AM and 7 AM. It used to be free and open all the time but they changed it to limit the number of people there. Note that after 7 AM it is open and free but that only makes sense if you want to just see the views or hike. Going there and not seeing the sunrise is a pretty big miss and you should try to avoid it if you can.
Clothing @ Haleakala
It is cold with no sun at 10,000 feet. It is pretty cold. Like super-cold. Pack winter clothing and get blankets from the hotel. We had thermal underwear, hiking shoes, jackets, hats, gloves, and still were somewhat cold. People with flip-flops and tee-shirts there were jumping like kangaroos to remain sane and warm. No idea how they missed the memo about the temperature. You can always change in the car and remove the extra layers of clothing if you are planning to hike after the sunrise. If you are with kids put extra layers on them. Our son was cold even with all the blankets we had and the multiple clothing layers on him.
Hiking @ Haleakala
After the sunrise is officially in the books you have to hike the Haleakala crater. You go down from the summit and stop at the main parking lot. From there you have two options: A very short hike to the initial vista point and then the main crater trail. The main trail is 11.2 miles long. It is not an easy hike and requires tons of water. It is a two-day hike if you want to go all the way. We only did a few miles on it before turning back due to not enough water. It is an amazing trail however and you should absolutely give it a try. Views of the crater are stunning. You literally feel like you are on another planet!
Road to Hana
Road to Hana is like this gift that keeps giving. It is a one-day journey full of so many different types of experiences. You get to see waterfalls, black sand beaches, amazing vistas, crazy tiny roads with one-way bridges, and eat some awesome local cuisine. Absolutely must do. We did it two times! The weather was not kind to us the first time so we wanted to make sure we go through it again. For a full mile by mile list of the attractions check this website.
The Hana Highway (also known as The Road to Hana) is a 64.4-mile-long (103.6 km) stretch of Hawaii Routes 36 and 360 which connects Kahului to the town of Hana in east Maui. Although Hana is only about 52 miles (84 km) from Kahului, an uninterrupted car-trip takes about 2.5 hours to drive, since the highway is very windy, narrow, and passes over 59 bridges, of which 46 are only one lane wide.
Here are the things we visited along the way and are worth mentioning:
– Paia Town
Depending on where you are staying Paia town can be the place where you would have breakfast or lunch. Since we were staying in Lahaina, Paia was our target for breakfast. We started the day early in the morning and planned to be there around the time most places start to open. It is a cute little town with great food. The Paia Fish Market is one of the best places to eat in Maui. Great ice cream place also right next to it. It is not a must-see but a good and convenient place to have some tasty food and continue on.
– Rainbow Eucalyptus Trees
Those are hard to get to and tricky to stop and admire since the road is tiny. However, if you get the chance, stop, and see them (near mile marker 7). They are quite majestic and as their name suggests "pained" with different colors.
– Nahiku Marketplace
Located six miles before the town of Hana (near mile marker #29) this is a great place to get some coffee, some food, and few souvenirs. During our few trips to Hana, the few places where you can get something nice to eat there were closed. We do however remember that during our previous trip the food was great. This time they were doing renovations etc. We instead ended up having lunch both times at Thai Food by Pranee. Great food. It is basically a food truck with a few tents.
– Wailua Falls
The most photographed waterfall in Maui. Located just past mile marker #45. It gets crowded quickly on sunny days. We passed through it two times in vary different weather conditions and both times there were plenty of people there. Overall it is a great place to stop, enjoy the view and relax for a moment from all the driving.
Cascading approximately 80 feet down the side of a lush jungle wall into to a lovely plunge pool, this is easily one of Maui's most accessible and majestic falls. No hiking required!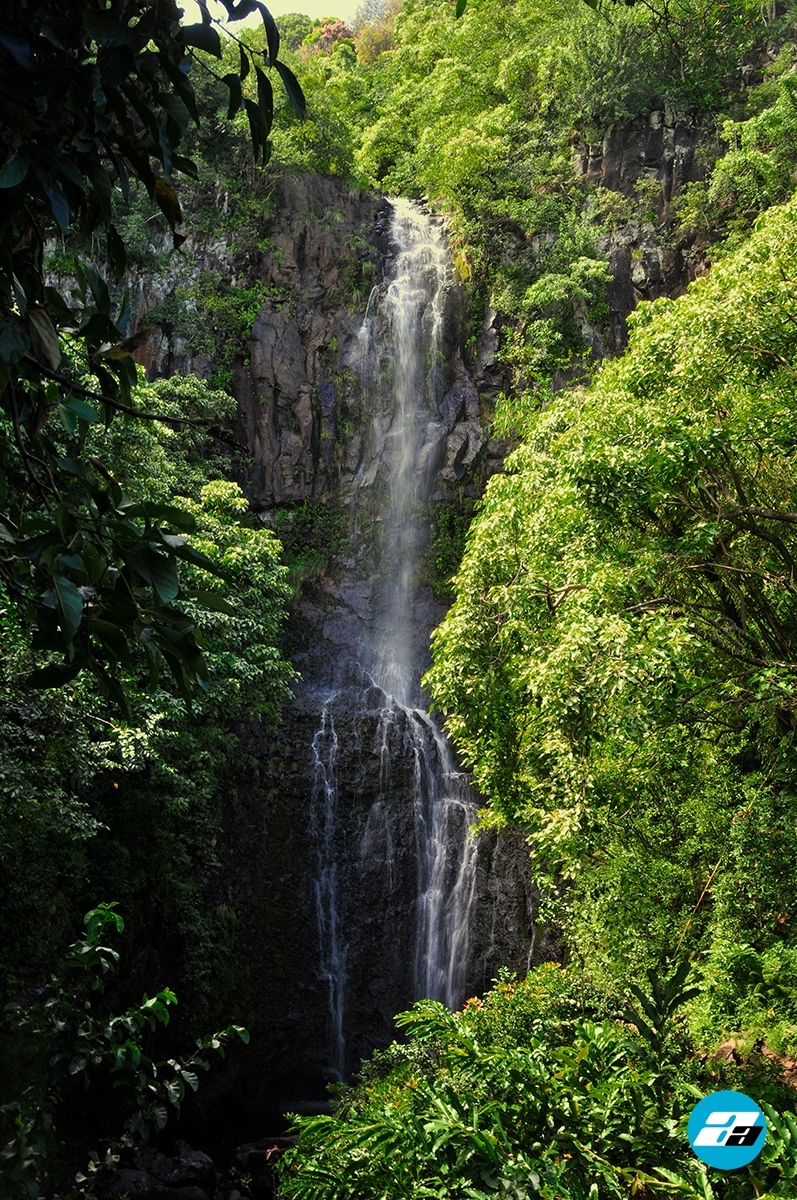 – Black Sand Beach
Our son's favorite beach. Pitch black sand. Very small in size and quite popular as a destination. People tend to stay for half an hour take few selfies and go. The waves are awesome there and the current quite strong. Great place for snorkeling as well. If you can stand the crowds there is a small trail on the left side of it. Follow it for about 15 minutes and you will get to a very similar smaller version of the Black Sand Beach. People just do not want to hike and come for the pictures. There is a small blowhole on the right side of it which is also a popular attraction.
– Pipiwai Trail & Waimoku Falls
This is a highly recommended trail but unfortunately, it was closed due to the rainy season when we were there. It was a must-see in our book but it just did not pan out.
– Hang Gliding
On our first trip to Maui years ago (before our son was born) we did hang gliding on the road to Hana. It was an unbelievable experience. We skipped it on this trip. However, if you want to see Hana, the black beach, and the coast from the sky this is one of the best ways to do so. The name of the company is Hang Gliding Maui. Great instructor and pilot and truly an amazing memory. Highly recommended.
Conclusion
Based on our experience you need about 7-10 days to experience Maui. There is so much to do, see, and try. And that just scratches the surface. Two weeks would probably be optimal. Especially if you are into hiking, snorkeling, surfing, and trying new things. If you want to just sit at the resort, visit a luau or two, and overall chill a week would be just fine. We love Hawaii and it is still for us one of the best places for a family vacation in the USA.
Book Similar Top Rated Adventures