Lake Tahoe is one of the most famous tourist attractions in the USA located right on the border between California and Nevada. It is also the largest alpine lake in North America and at 122,160,280 acre-ft trails only the five Great Lakes as the largest by volume in the United States.
Lodging
Our stay at Lake Tahoe was the last part of a road trip starting from LA and going through Napa Valley. We spend about 5 days near the Heavenly Tahoe Village in the Edgewood Tahoe Resort. An absolutely awesome hotel which we booked at a discount via the Five Star Alliance website. Right on the lake with great views, amenities, golf course, and service.
The number of choices when it comes to hotels and places to stay around Lake Tahoe is quite large. We picked the Edgewood Tahoe Resort since it was so close to the Heavenly Village and also was right on the lake. Price-wise there are significantly less expensive hotels in that vicinity. For us, Heavenly Village proximity however was key since we love the food and the shops there (more about those below).
Heavenly Village
One thing we remembered from our winter trip to Lake Tahoe was the awesome Heavenly Village. Its packed with great restaurants and gift shops and entertainment for all ages. Starbucks, Pizza, Burgers, Magic shows, ice skating (during the winter season) mini gold (during the summer season) you name it. Highly recommended. It has plenty of parking garages and places to park. There are quite a few hotels as well build around it since it really is the central point especially during the winter season.
Food
Heavenly Village was our favorite place to visit at launch and dinner time. By far the best pizza in town is at Base Camp Pizza. Awesome place! We loved every bite of every pizza there and we were there daily. Highly recommended. Another equally awesome place was California Burger Co. Their burgers and shakes were to die for. Between those two places and our hotel (plus the occasional Whole Foods trip for fruits), we were all set.
Things To See
It is hard to go over all the places to visit in Lake Tahoe. There are so many great nature trails, vistas, and things to do. We started with a few places we knew we had to see and from there did all the trials and vistas around them. Since we always travel with our son hiking for a very long time usually is somewhat of an issue :).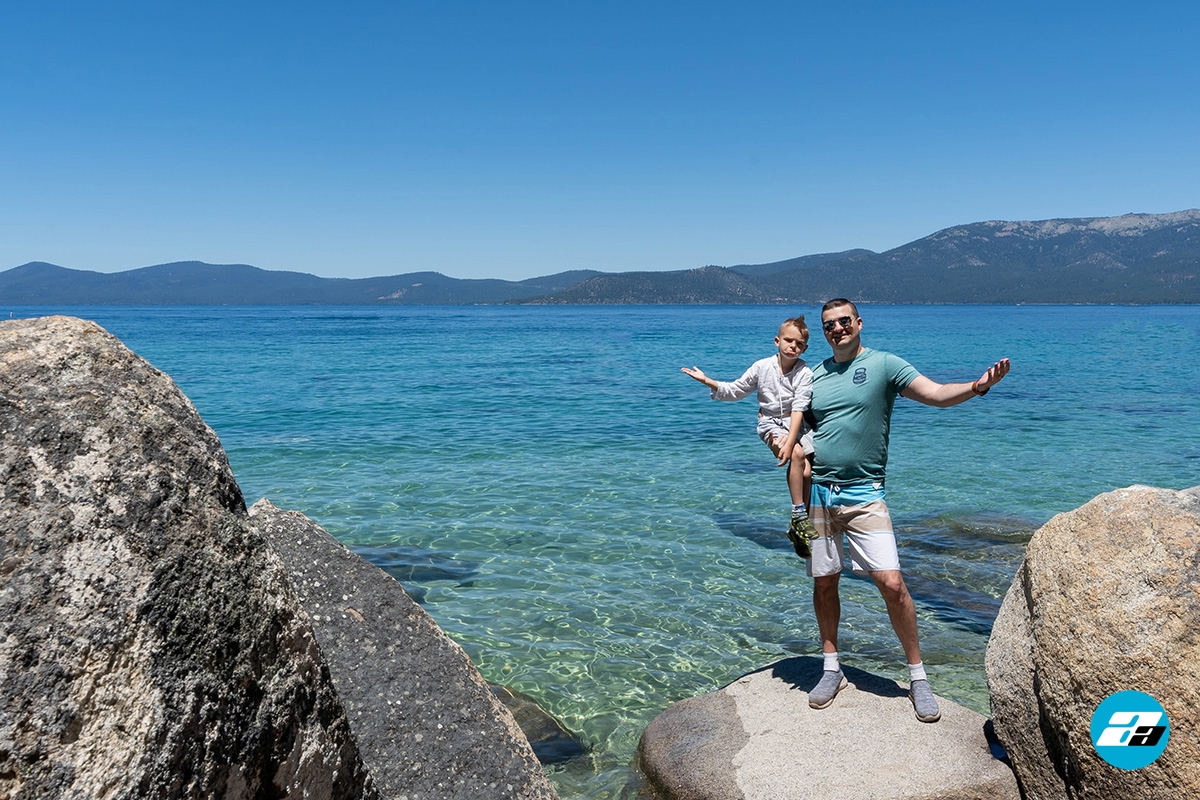 Emerald Bay / Emerald Bay State Park
Emerald Bay needs no introduction. It hosts one of the most beautiful vistas of Lake Tahoe. The actual stop you see on the photos is a very short climb from the parking lot so do not worry you do not need to go any extra hiking etc to get to that magnificent viewpoint. The only issue is the number of people there and finding a place to park.
It also has a great hiking trail called the Rubicon Trail down to the actual lake (and much further). There is an old castle there called Vikingsholm as well as a small beach. During our visit, the beach was packed and there were tons of boats in the lake as well. Probably it is a good idea to go there early if you are hoping to get a nice stop at the lake.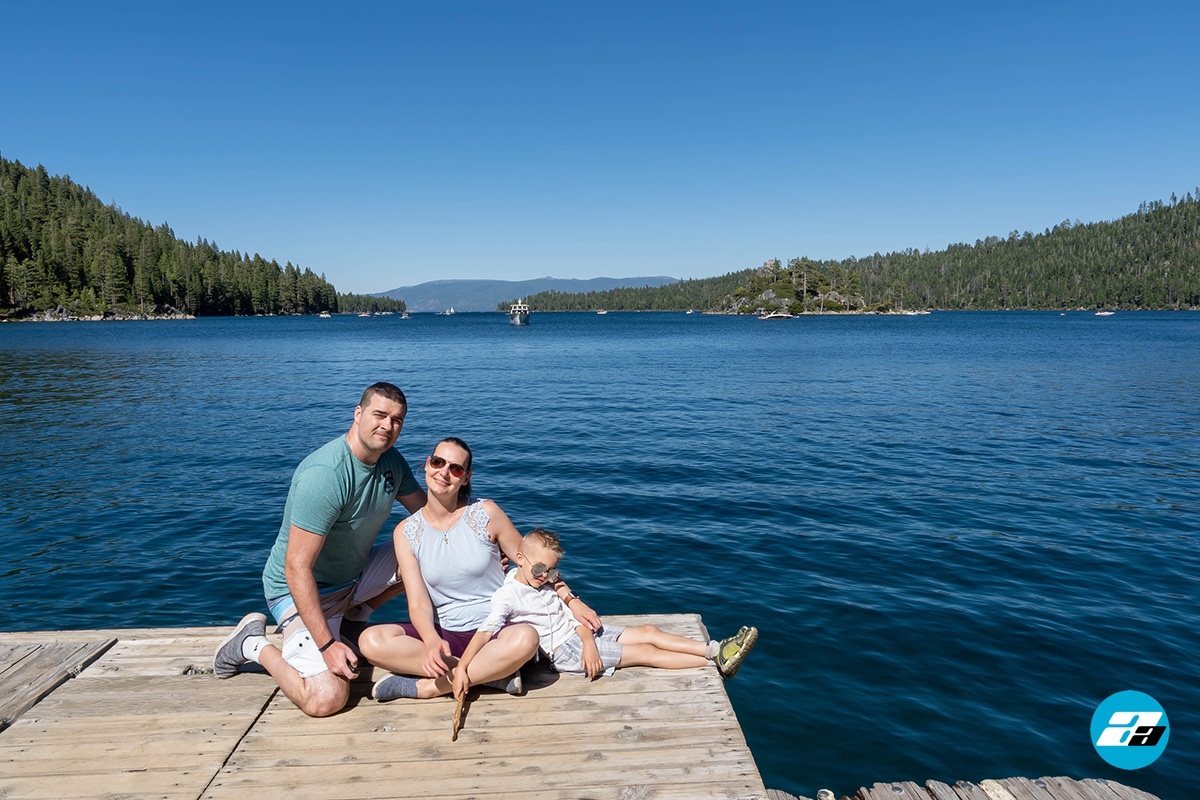 East Shore Trail
If you are into biking surrounded by nature and amazing views this is the trail for you. Brand new bike trail built around the coastal line of the lake. It is the start of a much bigger project which aims at surrounding a large part of the lake with a biking trail. We loved it. Bikes were not something we brought with us so we walked for about 2 miles and it was a great experience. If you plan to go there you should bring a bike or just rent one at the parking (there is a huge bike renting place). Overall one of the best and easy trails we experienced.
Sand Harbor
Sand Harbor is located along State Route 28, just three miles south of Incline Village. The area offers 55 acres of paradise – expansive sandy beaches, rocky coves, and panoramic views of the east shoreline. Swimmers and scuba divers enjoy the interesting rock formations, gently sloping beaches, and Lake Tahoe's trademark crystal clear water.
Sand Harbor was packed during our visit. Tons of people and kids jumping from rocks and enjoying the crystal clear waters. Arriving there early is a must if you are planning to spend a good amount on the beach or taking photos of the awesome rocks scattered everywhere. There is a large parking lot but it was completely full most of the time we drove by that side of the lake. Overall one of the best places to see the lake, its clear water, and the rock formations. There also were decent bathrooms and other amenities next to the parking lot which was great.
Camp Richardson
We passed through Camp Richardson and spend time exploring one of the trails there as well as spending some time on the beach. This was the most packed area we experienced during our trip. The famous restaurant there (The Beacon Bar & Grill) was booked an hour in advance, the beach was as full as it possibly could be and there were tons of boats and kayaks in the lake. Overall that was the happening place if you are looking for one in Lake Tahoe.
Incline Village Trail & Crystal Bay
We found this trail by accident while driving around the lake. We were really just looking for a place to park since literally every possible spot where a car could be parked was taken. In the end, we got a ticket since we parked on a spot from which the "No parking" spot was not visible at all. In any case, it was well worth the parking ticket. Great location with amazingly clear water views. Absolutely worth the time hiking to get to the bottom.
Fallen Leaf Lake
Fallen Leak Lake is a very interesting place. It is a smaller lake measuring approximately 2.9 miles (4.6 km) on the long axis and 0.9 miles (1.4 km) on the short axis. The lake was created by at least two glaciers that traveled northward down the Glen Alpine Valley. Another nice thing to see there is the Glen Alpine Falls on Glen Alpine Creek. Those are a short hike from Fallen Leaf Lake.
Conclusion
Lake Tahoe is a busy place regardless of the season. We have seen it during the winter and the summer seasons and during both it is packed. The nature and the amazing views are hard to beat. That with the combination of great food and drinks makes it an absolutely great vacation destination place. We truly enjoyed our stay there and would highly recommend it for a family getaway, road trip or a vacation.
Book Similar Top Rated Adventures