We wanted to experience the Pacific Coast Highway for a very long time. Moving to California definitely expedited things and helped us achieve that dream much sooner. We needed three days for the road trip starting from LA going through Big Sur all the way to Carmel-by-the-Sea and going back through Pismo Beach. In the end, this was one of the best road trips we have ever done in the United States. Highway 1 is one of the most beautiful highways and we can only compare it to the Overseas Highway in Florida. Different views and nature but both are amazing to see and experience.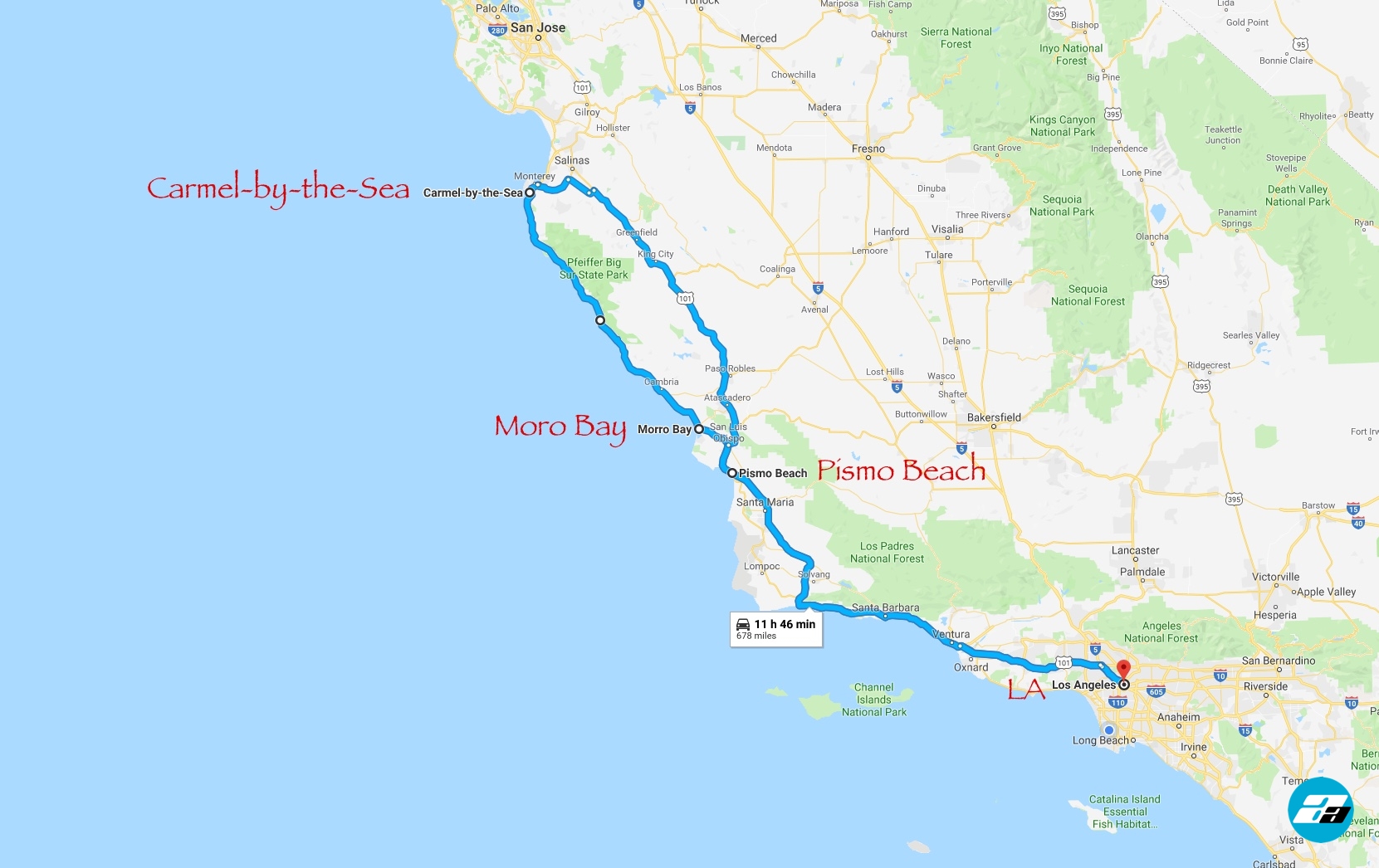 We "designed" the trip to have no more than three and a half hours drive each day. Since we are traveling with a small child more time than that spent in the car gets really tricky for us. Feel free to change and experiment with the locations. We decided to have our overnight stops in Moro Bay, Carmel-by-the-Sea, and Pismo Beach. We left after 7 PM on Friday and came back on Monday. You could also leave on Saturday but we wanted to start fresh at Moro Bay and not drive that same day to Moro and then from it to Big Sur.
LA to Moro Bay, CA ~3 ½ hour drive
As we mentioned before we left on Friday around 7 PM so technically the first three and a half-hour drive was done then. We got to the hotel in Moro Bay around 11 PM. We spent more than half of the day there. You can read more about our Moro Bay experience here. In the afternoon we drove through the Big Sur and reached Carmel-by-the-Sea around 9 PM.
Day 1 – Moro Bay to Carmel-by-the-Sea, CA ~3 hour drive
The most beautiful and breathtaking views were as expected while driving through the Big Sur. The coastal views are something else. We were extremely lucky to actually drive through the entire Big Sur. As we found out less than a month before our trip a huge piece of it was entirely shut down for a very long time. Even google navigation still though it was closed and rerouted us most of the time to go through US 101 instead of US 1.
We stopped at Rugged Point to have lunch, rest, and explore the famous portal to Big Sur. The food was quite good and the views worth stopping for. As a matter of fact, we also stopped there on our way back.
We spent the night near Carmel-by-the-Sea and we were ready for more adventures the next day.
Day 2 – Carmel-by-the-Sea to Pismo Beach, CA ~3 hour drive
By design, we wanted to drive through Big Sur twice in two consecutive days. We just heard so much about it that we did not want to miss an opportunity to take photos, fly our drone as well as fully enjoy the views. This is why both days we basically spent driving on the same Highway 1 just in different directions.
Now we also drove through the famous 17-mile drive near the Carmel-by-the-Sea. Overall we were not impressed. We felt that the views were sub-par and the feeling that you are bothering people with double-digit million-dollar houses was always there. Plenty of high fences and walls on the way and you just feel like you are in someone else's backyard. Not what we expected overall. It also was very crowded to a point where you had to wait to take a decent picture or even enjoy the view without people getting on your way. Here are some pictures from the 17-mile drive:
Now you can of course change the drive back to Pismo Beach as shown on the road trip map. Instead of Highway 1, you can go through US 101. It would be faster but far less picturesque. So after our second stop in two days at the Rugged Point for lunch, we continued to Pismo Beach. You can read more about our stay in Pismo Beach here.
Day 3 – Pismo Beach to LA ~ 3 hour drive
Note that when coming back from Big Sur if you are still on Highway 1 you will pass through San Simeon and the famous Elephant Seal viewpoint. If you have half an hour consider stopping there and seeing the extraordinary amount of seals that rest and chill on the beach. The best time to visit would be the end of and the beginning of the year. You can of course do this on your way to Big Sur instead of on your way back. We were there the second week of February and there was an insane number of seals resting there.
Overall this trip was an absolute blast. Plenty of driving but man it was worth it. The coastal views and the beautiful nature everywhere makes this one of the road trips everyone should experience when in California. If you are planning a trip do not hesitate to put Big Sur on your map. It is as good as advertised and more!
Book Similar Top Rated Adventures